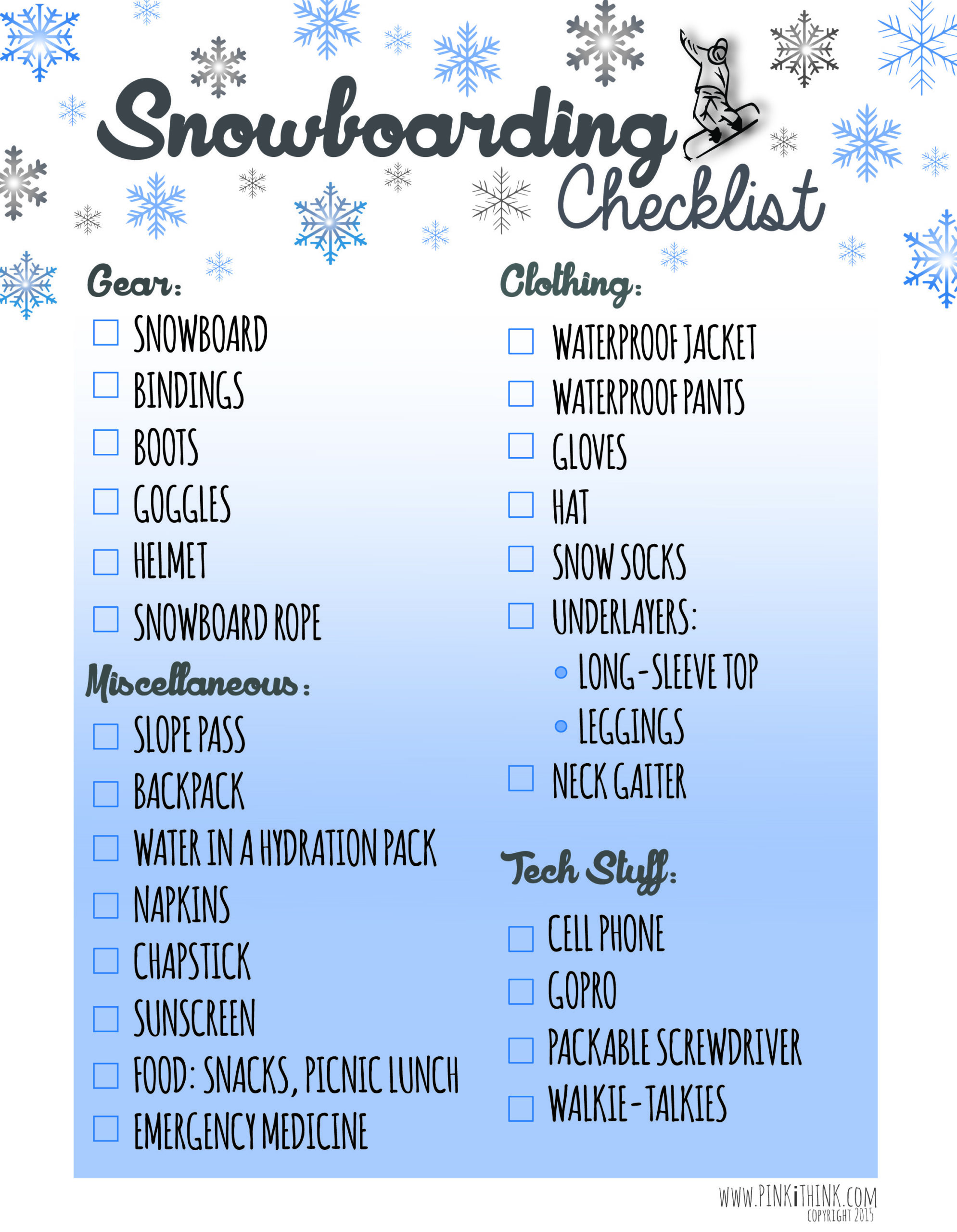 Hello all!
In my last blog post, I posted this free snowboarding checklist of things that you will need to make your trip successful.


Scroll down to download it…
Here I will share some tips about the items on the list in details as I think they maybe really useful to you to make your trip even better. I was inspired to write today by our most recent snowboarding trip – yesterday! 🙂 Raz and I had a lot of fun – this was our first time going this year, so we are definitely feeling sore today but CANNOT WAIT to go back!!!
Anyways, so I will talk about the list in order.
Snowboard – As I mentioned in the previous post, gear is SO important; once you have rented gear or borrowed and saw what works for you, try to invest into good gear that will last you for a long time and choose a board that is the right size.
For instance, if your height is 5'5″ or 165 cm (centimeters) then your snowboard size should be 145-152 cm. I will post a size chart soon. Here is my actual board on the left by SIMS called WRATH. My husband surprised me with it this last Christmas and I absolutely love it b/c of the blue and green colors (the colors of my snowboarding outfit lol) and it is the perfect size.
Bindings – These are extremely important. These I would definitely recommend investing into also! You want to make sure that they are easy to put on your boots and take off and that they don't take too much of your energy.  I got to experience older ones that could not open easily or close and they take away too much energy that you can spend on boarding. This year, I got new ones and they are soooo much better – huge difference. There is definitely a reason why some are more expensive.
Boots – They need to be your size – not to big, not too small. Make sure they are comfortable and can fit socks. Also, that they are easy to put on and off as well as to walk in when not on a snowboard. Some sites provide packages that include the board, bindings and boots.

Goggles – Also important! Do not ever try to go on the slopes without any goggles or at least sun glasses. The snow is really, really bright and it will be really tough for you or the sun could be bright. You can damage your eye sight that way plus you will not enjoy yourself. Good goggles should offer UV protection, be a perfect fit for your face (not too tight, too small or too big): most of them are adjustable, have interchangeable lenses in case you will board in different conditions and anti-fog coating. They should also be mirrored and polarized and double. Try to get the goggles like the Zionor ones on the right along w/ your helmet as there should be no gap between the goggles and the helmet; otherwise, you may get a brain freeze.
Helmet – I have seen people go on the slopes without the helmet. Even if you are the bomb at snowboarding, you should probably still wear a helmet just in case. If you are still learning like me, you definitely should wear one! I fell many times and you will too, once I fell off a chair lift and if I didn't have the helmet, I am pretty sure I would have had a concussion. Plus, having the helmet on keeps your head warm and comfy during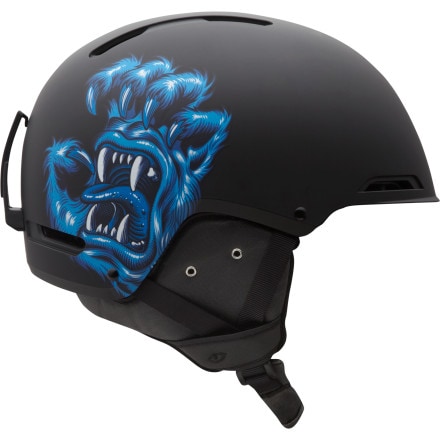 cold weather. Anddd, many of them look really cool like this one on the left I got for myself b/c of the Monster hand design (I couldn't find this one online anywhere for your reference, it was made by Giro). First, you need to measure your head w/ a soft measuring tape or a string (about an inch above your eyebrows) and then look at the helmet sizes for sale. If the box states (55-58cm) and you are 56cm, then that will be a helmet for you. After that, you should try it on and make sure it feels comfortable and is not too small or too big, it should be pretty snug and not move. It is also good to get an adjustable one.
Snowboard Rope – Rope that will help you drag the snowboard on the snow. Trust me this is so much better than always carrying it. You just tie a long rope to a metal hook and then the other end to your hand and drag – will make your life much easier. If anyone is interested, I can take pictures of how my husband made this.
Jacket and Pants – Definitely get snowboarding jacket and pants because they are specifically designed for this sport. Both need to be WATERPROOF; otherwise, you will be really cold because the water will go through. When buying these,
get a larger size than what you are used to. Why? #1 – You want to be able to wear layers under if needed; #2 – You need to be able to move around freely. On our most recent trip, I wore pants that were too snug, it is EXTREMELY uncomfortable! It is better to have a little larger jacket or pants because most of them have "adjustables". Also, try different jackets and pants on so you know what your winter clothing size is. Make sure you have enough room. Jacket should have a good amount of pockets esp on the chest in front or inside for your cell or chapstick. Try not to place too many things into the side pockets as you will feel them when you bend and will be tough to adjust your bindings. Again, comfortable is the way to go. When trying them on imagine yourself snowboarding and moving around.

Gloves – Definitely get good quality waterproof gloves that fit properly and have adjustable ties. It is also good to get the ones that you can snap on your jacket if you are not using them during a break or something like that so you don't lose them.  My hands get really cold, really fast so I make sure to keep them on most of the time. Also, I would suggest getting the ones w/ separated fingers and not the mitten type as you need to use your hands for bindings and etc.
Hat – Your hat will most likely not fit under your helmet plus it will be too hot but the time when you will take off your helmet, you will definitely need a hat! Any will work really as long as it is warm.
Snow Socks – You should get snowboarding socks – no really – they are sooo worth it. I
LOVE my Burton socks, they are more expensive but they are specifically made for snowboarding or other winter sports. They are super long and made with special threads to keep you warm. I even wear them at home sometimes.
Under-layers – These would be the clothing to wear under the snowboarding jacket and
pants. The top should have long sleeves and be really comfortable. My Nike Dri-FIT top on the left is perfect for that because it also has a collar to protect from wind. The bottoms should be leggings and also be comfy. Also, make sure the top is a long top – meaning you can tuck it into the waterproof pants and it is about 4-6 inches below your waist. There is nothing worse than having the top come out of your pants while you are having fun and then suddenly feel a breeze on your back. If you don't wear leggings, you will not be as warm and the tags of the waterproof pants might bother you. If you are a girl, don't wear a bra!!!! Wear a sports bra or just a tank top.
Neck Gaiter – You can snowboard without this one but it is good to have in case it is really windy for nose and lip protection.
Slope Pass – If you get lift tickets, don't forget them :).
Backpack – Optional but good to have to carry things that you would otherwise keep in your pockets:  your tech stuff, water and SNACKS!

Water in a Hydration Pack – It is a good idea to get water in a hydration pack and have the tube coming out next to your neck or wherever comfortable and drink water when needed, which you will need! It is even better if a backpack has a built-in hydration pack so that it is 2-in-1.  The one pictured on the right made by Juboury has everything you'll need and it is under 25 bucks; if you want something a bit bigger, you can also check out this Camelbak version, which won't dissapoint.
Napkins – For your runny nose!

Chapstick – For your lip hydration, of course. You will constantly lick the lips if not hydrated, because of the wind, so cracked lips on the slopes are not fun. One with SPF is even better.
Sunscreen – You don't want to have "goggly" eyes/face. The Coola set on the left is organic and contains all of the necessities.
Food – Snowboarding is appetite-building and you will
get hungry fast. To save money and to feel safe that you have food, just pack things like energy bars, granola bars, yogurt, sandwiches, candy, drinks, cheese and crackers, and don't forget condiments like ketchup, mustard, mayo, etc in tiny travel packets :).
Emergency Medicine – FirstAid kit should be with you always but also don't forget about headache medicine just in case you get tired or for whatever other reasons.
Cell Phone – Not only will you need it for a selfie 🙂 or a post but also if there is an emergency and yes! take pictures of beautiful sights.

GoPro – Definitely a good investment as you can take really cool pictures and videos (for things like tracking your progress or just recording your fun adventures). We take our GoPro pretty much anywhere and put it to good use. Plus its battery lasts for a long time. The wide picture of us below was taken by our GoPro.
Packable Screwdriver – A must! If your snowboard bindings are not properly set, you will not enjoy yourself; well, and probably fall more often. This compact Dakine driver is perfect for that.

Walkie-Talkies – If you are a dork like my husband and
I, then you will just enjoy using these esp if you are far away from your partner or a friend! I got my pair [here] for less than $50 and they work great!
Hope you enjoyed reading these tips! And, that you have a fun snowboarding trip!
Share your experiences with snowboarding and how these tips worked out for you down below. Also, follow me on socials and don't miss out!
You can download the snowboarding checklist [here] for free (personal use only).


xo